People
WILMOTTE & ASSOCIÉS ARCHITECTS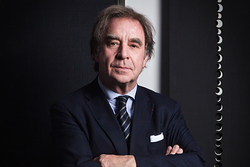 Jean-Michel Wilmotte is a French architect, town-planner and designer.
Born in Soissons in 1948, Jean-Michel Wilmotte studied interior design at the Camondo school of interior design in Paris. Just two years after graduating, he founded his own agency in Paris in 1975.
Today, his business is structured around two companies: architecture firm Wilmotte & Associés and design studio Wilmotte & Industries SAS, operating more than 100 projects at any one time.
Renowned for the diversity of its output and the elegance and excellent finishing quality of its work, the Wilmotte firm operates in both the public and private sectors, across luxury, hospitality, residential, and the service industries.
The firm unites 270 employees of 25 different nationalities and operates in 20 countries. Established in Paris and Nice, its international development brought about the launch of two subsidiary companies: Wilmotte UK Ltd in London, and Wilmotte Italia Srl in Venice. The firm is also represented by an office in Seoul.
City: PARIS
Nation: FRANCE