Eventi
A sustainable home at MADE EXPO
published on: 2 aprile 2019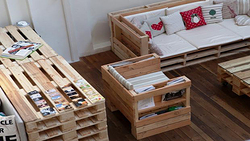 The Italian Consortium for the protection of wood and cork renews its participation in the event with a space set up with furniture signed 800x1200 eco-design, the first line of sustainable furniture designed by Conlegno to give a second life to pallets and wooden packaging.
Increasing attention to sustainability also in architecture. In particular, wood is returning to the limelight because it allows us to build comfortable homes that are good for the planet. On the occasion of MADE Expo 2019, the architecture and construction fair that was held in Milan Rho from March 13th to 16th, Conlegno chose to convey to visitors all the warmth of a wooden environment, setting up a welcoming home with trussed roof and beaded walls.
Not only that, to make the stand even greener, the space has been furnished with 800x1200 eco-design furniture, the first sustainable furnishing line created by the Consortium and created to give a second life to pallets and wooden packaging. Conlegno was therefore an exhibition area in the sign of sustainability and reuse that visitors were able to visit in Hall 10 at stand E24. "This year the central theme of MADE Expo was the quality of living.
We chose to set up a wooden house because it perfectly reflects this leitmotiv: for Conlegno living in an environment in harmony with the Planet is synonymous with quality - explains Orlando Fravega, President of Conlegno -. It is essential to focus increasingly on re-use and sustainable materials to build a greener future and preserve our forest heritage. It was with great pleasure that we brought these values, the same ones that the Consortium has made its own since its inception, at MADE Expo, an important international event that in the last edition saw the participation of over 100,000 people ".
The space reserved for Conlegno within the ninth edition of the fair has given ample emphasis to structural wood and to the brands and services connected to it: the CE marking, the use of the chestnut river, the use of the river and the use of Trieste, S.A.L.E. and S.A.L.E. +, but also to the new project of Conlegno Legno Clima. Visibility will also be given to all the other brands that have made the history of the Consortium, in particular Fitok, Epal and Legnok.
Photogallery