News
At Imm Cologne cross-over products, ready to be combined
published on: 14 febbraio 2019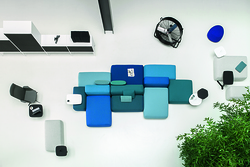 Products that are ready to be combined in a kitchen (like for example the strong proposal of stools), in a dining room (with chairs and tables for every requirement), in a home office and living thanks to comfortable seating (couches, armchairs and ottomans) combined with eclectic side tables.
The accent is on a soloist, the LEM: the iconic stool created in 2000 by Shin and Tomoko Azumi, now a classic piece for the contract and a world best-seller of the brand. At IMM it is shown in a warm shade of orange. ADD, the flexible modular seating system, is also displayed in a vis-à-vis configuration and complemented by side tables at different heights. In the spotlight there is also SEELA designed by Antti Kotilainen, the stacking chair recently awarded by Good Design available for residential and office, also as a stool h.75 cm. Its feature is a polypropylene shell with an integrated seat pad, seamlessly inset to give a smooth finish with the added warmth of wood or comfort of fabric.
A refined design with numberless combinations, which shows the soul of Lapalma, a manufacturer always looking for new proposals on materials and projects. A stage for itself is dedicated to the sober and elegant chair ARCO by Francesco Rota, with a wooden curved backrest like an arch. ARCO has an ergonomic and welcoming seat and thanks to the many different basis it adapts itself to residential spaces as well as public areas. IMM is also the right moment to focus on families of products which gently talk together in the "rooms" with other must have products of Lapalma, thus highlighting their own characteristics.
ACCA table, designed by Francesco Rota is oriented to work spaces, here displayed with high legs together with LAB stools by Karri Monni and in the lower version together with UNO chairs with castors by Francesco Rota. ADD T, a system of table originated from the ADD modular seating system, is exhibited together with CUT chair, again by Francesco Rota, with a soft and warm upholstery.
To the FORK table system designed by Tomoya Tabuchi, and to its endless configurations, an all black space has been dedicated, where it is combined with MIUNN by Karri Monni,, a chair with a welcoming shell, and with the addition of the soft shapes of SCREEN, the modular partition system designed by Francesco Rota.
Last but not least. The asymmetric high table BRUNCH, designed by Romano Marcato, a family of tables offering a free configuration thanks to different height and central top to join three tables in a star shape combination. BRUNCH is displayed with a veritable classic of Lapalma: the MIUNN stool designed by Karri Monni. At the same time, the rounded triangular shape of KIPU ottomans designed by Anderssen & Voll with some UNO chairs and the side tables JEY designed by Francesco Rota are displayed in an informal and relaxing oasis.
Photogallery