Eventi
CIFF Guangzhou 2018: understand, decode, offer
published on: 15 gennaio 2018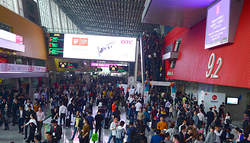 The Spring edition of
CIFF
(China International Furniture Fair) will be held in Guangzhou, divided into 2 phases according to product sector: the first from
18 to 21 march
, the second from
28 to 31 march.
Understand the market in order to de-codify trends, providing solutions that are perfect in terms of style, quality and price. This approach has allowed CIFF to become an international reference point in the furniture sector, growing and modernising in order to offer both exhibitors and visitors the best possible services. There is already great anticipation for this 41st edition of CIFF. In fact, one single event will provide the opportunity to visit 4,000 exhibitors who, spread out over 750,000 square metres, will give an integrated account of their individual visions of Whole Home Décor, together with the most significant and current aspects of the sector. This is why at least 190,000 specialist visitors are expected.
The first phase of CIFF (18-21 March 2018) introduces a full range of solutions, both classic and modern in style; a vast selection of products of different styles and typologies: home furniture, home decor & home textiles, outdoor & leisure furniture.
Customisation + Interactivity + Design
: in other words, when the product is adapted to express the personality of the person who has selected it. This is how new products are created, designed not be part of a series, but to shape themselves in such a way as to provide what the client is looking for. Products that can put themselves at the service of the user, exploiting the high-level Internet of Things technology, cloud computing and smart chips, masterfully concealed in a charming design.
Then Mild Luxury, in other words, quality products, that can provide high-level comfort and luxurious design, but that at the same time reasonably priced, able to satisfy almost everyone, perhaps skilfully mixing together pieces that are different but easy to integrate.
As for the news, Homedécor & Hometextile will integrate the Zen style into its abundant proposals, while Outdoor & Leisure will offer new product sectors, such as garden equipment, fountains and hand-crafted iron furniture; the 3rd Global Garden Lifestyle Festival will include an interpretation of life in the open air, which leads to a more unrestricted lifestyle.
The second phase of CIFF (28-31 March 2018), with office furniture, commercial furniture, hotel furniture and furniture machinery & raw materials for the furniture industry, will see the implementation of the Medical-Health Furniture-Hall sector, and will tackle the Smart Office theme in greater depth.
Photogallery