Eventi
Domotex 2019, a trade fair to connect the continents
published on: 17 gennaio 2019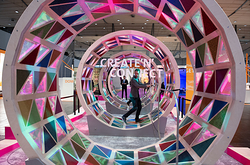 The latest edition of DOMOTEX – the world's leading showcase for carpets and floor coverings (January 11 to 14) – has underscored its reputation as the sector's biggest and most important hub for business, innovations and trends.
Over 1,400 exhibitors from more than 60 nations came to Hannover to kick off a successful new year of business. With close to 90 percent of all attendees having decision-making authority, the caliber of the show's visitors remained extremely high – a fact confirmed by exhibitors. Due to growing market concentration, DOMOTEX recorded a slight dip in attendance. According to the exhibition survey, the order situation of exhibitors remained constant, while the purchasing volume per visitor went up.
About 70 percent of all DOMOTEX attendees once again came from abroad – a clear sign of the flagship fair's international appeal. In terms of visitor backgrounds, attendance was notably up on the part of wholesale and retail professionals. The figures also revealed an increase in attendance by architects, interior designers and contract business professionals. In addition, DOMOTEX 2019 saw an increase in the amount of display space sold. "Thanks to its strong international drawing power, DOMOTEX serves as the sector's definitive global marketplace. The positive and optimistic outlook on the 2019 business year that was tangible in the trade fair halls proves the success of this year's exhibition," said
Dr. Andreas Gruchow, the Managing Board member in charge of DOMOTEX at Deutsche Messe
. "Manufacturers and customers as well as partners, architects and designers from all over the world come together to network at DOMOTEX, spawning new business relationships and collaborative opportunities previously not deemed possible," remarked Sonia Wedell-Castellano, the new global director for DOMOTEX, adding: "That's what this year's theme of Create'N'Connect is all about."
"CREATE'N'CONNECT" at DOMOTEX 2019
The inspiring "Framing Trends" showcase in Hall 9 proved its worth. In its second year, it once again featured impressive displays of innovative products by manufacturers, artists, designers and students.
International architects, designers, planners and influencers were particularly appreciative of "Framing Trends" as the beating heart of the event. The new showcase has proven to be highly effective at bringing visitors together and spawning lively interaction and business dialogue.
Under the motto of "Gaining Ground", the "Treffpunkt Handwerk" skilled trades hub in Hall 13 proved popular among interior designers, parquet and floor layers, painters and varnishers. The hands-on demo area gave flooring experts an opportunity to see innovative floor treatment and finishing tools and machinery in action while comparing notes with fellow professionals.
Photogallery