News
Echino and Tulsa at Imm Cologne 2019
published on: 8 febbraio 2019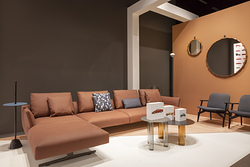 Echino
Small table design Sebastian Herkner
"I designed for Zanotta a duo of side-tables using the strength of glass as statement."
Sebastian Herkner, renowned for his particular sensitivity toward glass, designed a pair of small tables where the glass strength and durability are axiomatically used for developing the concept of the entire product. The Echino small table features two different sizes which are complementary, since can be placed side by side.
It has three barrel-shaped legs made of three – layered blown glass available in four colour shades – smoky grey, light-blue, amber or blue – which a steel sheet top, with either natural or black nickel-satin finish, or a mirror top is placed on. The structured surface of the legs shows parallel striations which look slightly oblique and provide the unique and original look of the small tables. Steel and glass create an unusual relationship based on the contrasting of full and void, lightness and strength, above and below. A versatile item, long-lasting and strong, eco-compatible and 100% recyclable.
Tusa
Armchair design Rodolfo Dordoni
"The elements that define this armchair are all in the product name "Tusa": the emphasis of legs, the tailor-made versions of the backrest high or low, as well as the historic irony of the Zanotta brand."
The new Tusa armchair is distinguished by a cosy shape and a subtle and rounded outline with welldefined lines The little padded back and seat provide comfort and support to posture. Thanks to the convenient height of armrests Tusa can be placed around a dining table or in front of a desk. The armchair is available with two backrest heights in order to fulfil the various exigences of contemporary furnishing.
The classy tubular steel base comes with ash-grey or black painted finish, two shades that well match the removable leather or fabric coverings. An elegant, ergonomic, comfortable seat with restrained dimensions, which perfectly fits either the dining area or the home office, as well as the requirements of the contract market.
Per saperne di più su: ZANOTTA
Photogallery