Eventi
EFE 2020 RESCHEDULED TO 27 – 29 AUGUST
published on: 24 febbraio 2020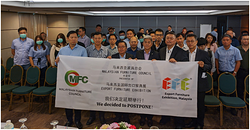 Export Furniture Exhibition (EFE) 2020 has been rescheduled to August 27-29 at the Kuala Lumpur Convention Centre (KLCC).
The decision is taken with great regret after the Town Hall meeting held on 17 February 2020 with the organiser and its exhibitors. The postponement was decided collectively through voting after careful considerations with stakeholders.
There are a lot of uncertainties arising from travel disruptions and other circumstances due to concerns of the COVID-19 situation. Some countries have recently issued travel advisories and companies are restricting travel of their executives.
In light of the constantly evolving situation, we have taken the difficult decision to reschedule the event through the meeting and voting. We appreciate the international buyers who had looked forward to attending the show in March and hope to have their continued support to attend on the new date.