Eventi
Imm cologne becomes the platform for digital trends in the interiors industry
published on: 21 dicembre 2018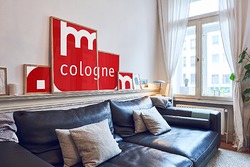 Use the entire bandwidth of digital possibilities – imm cologne, as one of the world's most important international interiors trade fairs, has committed itself to this motto. The long term goal of the trade fair organiser is to create its own area of focus for the digital economy and offer online traders, platforms and portals, as well as suppliers a forum.
For Koelnmesse, digitalisation is not only an important instrument for further developing the customer journey and brand experience of trade fairs, but also for generating added value for their exhibitors. The internationally active trade fair is thus gradually complementing the established digital formats like the homepage, microsites, social media channels and blogs of imm cologne with further digital touchpoints, in order to break new paths for interaction with trade fair visitors.
Smart digital formats you can touch
As one of these new touchpoints, the newly developed e-commerce forum Touch by imm cologne was introduced for imm cologne 2018. It unites digitality and haptics and opens up new digital trade channels. Here, visitors receive further information , for example, about online commerce channels, by touching a small screen on an exhibited item of furniture. The name makes reference on the one hand to the interaction on the screen devices, and on the other hand to touching real products.
The format was developed especially for young, innovative companies and digitally oriented brands as the intersection between the analogue product world and digital content, and should address trade visitors and end customers equally. With new digital advertising spaces, imm cologne 2019 also offers exhibitors in the Northern Halls the possibility to draw the attention of visitors with advertising messages. To this purpose, the trade fair makes 18 high resolution spots with larger and smaller LED and LCD walls, monitors and displays available.
The spots are will be positioned at the most important waypoints, such as the hall entrances, bridges and turnstiles in the northern area. That imm cologne sees itself as a companion of the industry on the path to digitalisation is also shown by the imm cologne Congress, which, in its sixth year, concerns itself with factors for success, especially for the digital trade. "Professional e-commerce in the furniture trade" is the motto in 2019, under which themes like online shops and marketplaces, customer focus and digital marketing, or the payment mix in the online shop are covered. The congress takes place on 17 January 2019 in the context of the interiors trade fair imm cologne in the Koelnmesse Congress Centre North.
"We are intensively expanding imm cologne into the platform for digital trends in the living and interiors industry", according to
Matthias Pollmann, Vice President Trade Fair Management of Koelnmesse
. "We invite every exhibitor to participate in this digital expansion – this will strengthen our industry for the future!"
Digitalisation also plays a role in the three new event programmes of Future Technology, Future Design and Future Foodstyles of LovingKitchen, which is taking place parallel with imm cologne. The focus here is on networked technologies and their influence on future forms of kitchen outfitting and design. In addition to this, star designer Alfredo Häberli will present his vision of a kitchen of the future in the " Future Kitchen" installation. Thanks to a handful of prominent partners from industry and the economy, visitors will be able to virtually experience the kitchen furnishings and a series of kitchen appliances designed by Häberli as a future scenario as augmented reality.
Thanks to digitalisation, buying furniture in the Internet is getting even better
Virtual living landscapes and the latest tech gadgets for digital furniture shopping – OTTO, the market leader in the German online furniture trade, is providing digital impulses at imm 2019. At the 215 m2 OTTO trade fair stand (Boulevard, in front of hall 7), the focus is on innovations like computer generated imagery (CGI) and virtual Reality (VR), making these tangible for visitors there.
In the case of CGI, this involves (product) images created with the help of special data on the computer, which could present an alternative to or even a complete replacement of classic photos in future. This theme plays an important role in ecommerce and is increasing in relevance all the time. At the OTTO trade fair stand, experts of the company will guide visitors through the various production steps using images created with CGI. Visitors can watch 3D artists model items of furniture on the computer live at the trade fair stand. The result is rendered images that can hardly be differentiated from photos of real furniture in living surroundings. Using special glasses, visitors can also view this digitally generated furniture in virtually designed room scenery.
Yourhome & alike – new apps for online furniture shopping
OTTO will also present the latest version of its augmented reality app, with which users can virtually furnish their own living spaces and be able to position various items of furniture and other interiors fittings to scale in their own home before buying. OTTO's latest app alike, which promises a new form of visual furniture search, can also be seen.
André Müller, Director Home&Living at OTTO: "We think digitally and with a customer orientation. We advance our work toward promoting online furniture shopping and designing it to be as comfortable and as progressive as possible every day. We are pleased to present our results at the furniture trade fair, and to in this way even be able to offer imm cologne something of a surprise."
The programme is complemented by numerous lectures on the OTTO stage, which is located directly next to the trade fair stand, as well as by the visit of star designer Guido Maria Kretschmer, who will provide some insight into his OTTO furniture collection.
Photogallery