News
PRISMA 1.0/2.0 - The glass draws new borders in the shower
published on: 27 maggio 2019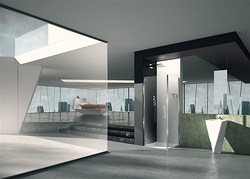 The concept of classic shower cabin, where there is an equilibrium between aluminum and glass, is reinterpreted with the series Prisma 1.0 and 2.0, evolving so as to shower cabin in a "mobile shower", where all the building blocks are transformed into one unified design glass, becoming a component of furniture able to interact with light and with its surroundings.
The glass is no longer seen as a simple element of decoration, but becomes the real protagonist perfectly integrating in the environment of modern design.
Prisma is an elegant, ingenious and aesthetic solution in its minimalism, with a wall profile of 25 millimeters and extensibility of 2/3 centimeters, with clean and prismatic lines, where all the elements interact in harmony with each other; the concept of eulogy to glass continues: from simple decoration it is slowly replacing structural elements, altering the perception of visibility, eliminating any visual obstacle and amplifying our senses.
The name Prisma is inspired by geometric shapes, where all internal and external conformations of the shower enclosure can be traced to solids uneven and squared: make an example the shelf shape, the handle of the door of the indoor/outdoor shower and the external towel holder, all designed and developed in glass to enhance an aesthetic touch.
What sets the series Prisma is the ability to be manufactured with the thickness of the glass is from 6 in 8 mm; Besides this factor, the characteristics of these "mobile shower" are given by:
the glass handles 32 centimetres wheelbase, with a thickness of 6 millimetres inside/outside where the classic metal elements are dematerialized, a glass supporting shelf with squared design of 6 millimetres thickness and the hinges are designed specifically for this new series of shower box, in fact in Prisma 1.0 there is a hinge attached to the profile while in Prisma 2.0 the hinge connects the two glasses.
For consumers who need a more sober, there is a shiny chrome aluminum arm solution squared design with a rotation of 180°, the handle and hinges; also you can choose the different types of glass: transparent, extra-clear and mirrored, with the possibility of adding tecnovetro and protective treatments.
In Prisma 1.0 and 2.0 the shower tray is not necessary, as both models can also be installed on the floor.