News
The Big 5: the opening day
published on: 25 novembre 2019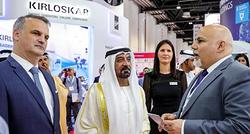 His Highness Sheikh Ahmed Bin Saeed Al Maktoum, President of the Dubai Civil Aviation Authority, CEO and Chairman of the Emirates Group, Chairman of Dubai World, and Noor Takaful Insurance Company, officially inaugurated the 40th edition of The Big 5 at the Dubai World Trade Centre this morning. The construction industry mega-event is set to welcome over 2,390 local and international exhibitors from 66 countries showcasing 20,000 building solutions and products to 68,000+ expected participants from more than 130 countries over the four days of the show.
As the region's largest and most influential event for the construction industry celebrates four decades of success, for the first time, The Big 5 covers the full construction cycle with six specialised shows: The Big 5 Heavy, Middle East Concrete, HVAC R Expo, Middle East Stone, The Big 5 Solar, and the Urban Design & Landscape Expo.
Vice President Construction – dmg events, Josine Heijmans, said:
"Reflecting the impressive growth of the UAE and wider region, The Big 5 has developed into the global hub for the entire construction industry it is today. In a shifting economic landscape, innovation, technology, market insights, networking, and learning are key to remain competitive. It has never been more important for the industry to come together, address current challenges and shape future strategies."
Modulo and Suite magazines are present at the event.