News
The new B-Line Collections adjudicated the 2018 Good Design Award
published on: 13 febbraio 2019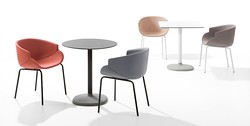 B-Line receives the Good Design Award, assigned at the end of 2018, for the Bix small upholstered armchair designed by Zanellato/Bortotto and for Maddalena Casadei's Fonda table.
The prize confirms the success achieved by the products at international level, after their launch at Milan's "Salone del Mobile" last April, and their presentation to the contract sector's operators at the Orgatec trade fair in Cologne, the venue at which the company made its debut in October. The Good Design Award, established in 1950 by the Museum of Architecture and Design Athenaeum of Chicago and by The European Centre for Architecture art Design and Urban Studies (as the initiative of architects Eero Saarinen, Charles and Ray Eames and Edgar Kaufmann Jr.), still nowadays rates as one of the most prestigious international recognitions for design excellence on a global scale and throughout the most diversified sectors, from electronics to transport through to medical equipment, energy systems and robotics.
The panel of judges that gathered in New York and Los Angeles, examined more than 900 designs and graphics submitted from 47 countries, to elect those that best express the values of "Good Design". Giorgio Bordin, B-Line director, says: «This recognition strengthens our Company's commitment in collaborating with young designers to propose functional and well-designed collections to a market that is ever more contract prone. A design and research path in the quest for dynamic and transversal furnishing solutions with the highest qualitative standards, integrating technology and skilled handcrafting».
Bix is a small armchair with precise lines, characterised by a sharp and sinuous line crossing its shell, forming two half shells: the soft and welcoming seat fits against the wide backrest with its accentuated and enfolding profile. The result is a neat and comfortable seating with armrests, that can be extensively used in contract and home environments. Fully upholstered in fabric or leather, it is available with wooden legs in natural beech, in metal or with chrome-plated metal swivelling spokes (with and without casters).
The Fonda table presents almost archetypal lines, born of a softened reworking of geometries. The softly rounded concrete base coloured in the mass, on a catalogue palette or even in custom colours, accommodates the cylindrical metal structure that supports the top in the mdf or laminate versions . The table is available in 2 heights, square topped with rounded corners, or in a curvilinear shape; the materials used make it suitable for indoor environments as well as for verandas, decks and outdoor locations in general.
Photogallery