News
The understatedly elegant Lema lifestyle returns to IMM Cologne
published on: 10 febbraio 2019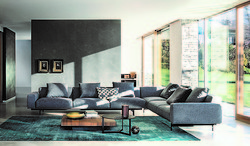 The over 300-sqm stand, designed by Piero Lissoni, perfectly embodies the philosophy of Casa Lema and its subtle design language. A key feature will be the made-to-measure, modular systems, the core business of the brand, as well as the latest furniture collections.
Proposals with a strong identity that ably respond to the demands of an increasingly globalised market. Designs with a contemporary spirit and that all-Italian style, typical of the Lema brand, with deeply rooted origins in a manufacturing culture founded on cutting-edge technology, tradition and quality craftsmanship.
A line that Lema has pursued right from its inception, ably fusing artisanal craftsmanship with leading-edge industrial technologies. This transformation from manual workmanship to highly mechanised processes has enabled the brand to continually provide unique and versatile custom-made products that have all the qualities of an authentic limited edition series, while still maintaining that special attention to detail that is an innate part of the company's heritage. Even in the 70s, Lema was the first Italian reality to propose made-to-measure modular systems for day and night zones.
In fact, with the technical know-how acquired over 40 years of activity, Lema has ably renewed itself and evolved, building a complete home offer with an innate elegance that now includes not only systems but also chairs, upholstered furniture, tables, wardrobes, beds and home accessories The expression of a contemporary lifestyle, with an innate elegance, based on welcoming, conviviality, relaxation and the creation of warm, homely spaces. It's the Lema home, where the key focus is design, inspired by the idea of an understated lifestyle that is never loud or pretentious; a refuge, free of restrictions. Tranquil spaces for sharing emotions, where every piece creates a well-balanced ambience brimming with. unexpected aesthetic inspirations.
A contemporary interpretation of Mediterranean life; the essence of Made in Italy design for homes that are not afraid to reveal their more intimate character.