News
TM Italia a new showroom in Milan
published on: 27 maggio 2019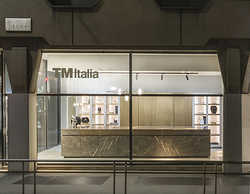 The store is located in Via Larga street, corner of Piazza Santo Stefano 5, in the heart of a prestigious area of the city that houses the sales points of some of the most renowned high- end design brand.
The whole exhibition space of more than 200 square metres has been set up by Nicola Gallizia and co-designed together with Alessandro Ruga. It will be run by Mauri&Mauri, a commercial partner of the best Italian design companies.
The store named Via Larga 3, besides TM Italia, hosts other three companies belonging to the furnishing sector: Henry Glass (glass doors and high quality systems for architecture and Interior Design), Kristalia (modern design furniture), Penta (lighting systems for domestic and public environments).
Wide windows facing the street light up the environment where the products become real protagonists with their design and materials. Different stories that interweave with elegance and harmony.
The essential architecture of the space plays with neutral light gray tones of the floors and walls interacting with the preciousness of the materials, both of the finishes and the products.
The large onyx-effect ceramic paneling with shades flowing from gray-blue to light browns, together with the doors finishes, a filter between the different areas, make the spaces refined and bright.
TM Italia kitchens Neolite – design ruadelpapavero, Rua – design ruadelpapavero and T45 – design TM Italia R&D, are positioned on the left and the right side of the entrance.
The K6 kitchen – an articulated composition designed by Alessandro Ruga, is instead positioned at the far end of the store, in the area dedicated to show cooking.
Photogallery