Products
Grand Lui Chair by Jacob Strobel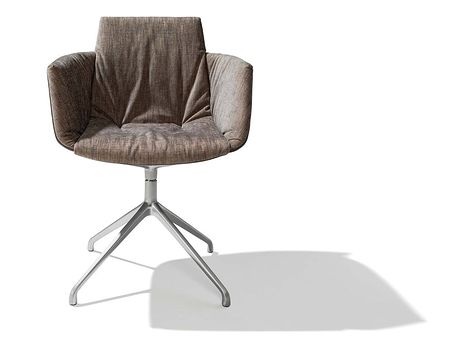 Manufacturing company
Characterized by an enveloping ergonomic seat complete with padded armrests, the new grand bears the signature of designer Jacob Strobel and, with its soft shapes, invites you to enjoy a moment of pure relaxation.
Big sister of the unmistakable lui chair, grand lui stands out thanks to the ergonomic seat, completed by the presence of soft padded armrests. Enveloping and comfortable, the newcomer from TEAM 7 invites you to enjoy a moment of relaxation surrounded by a soft embrace. The custom-shaped foam padding, upholstered in leather or fabric, allows the chair to adapt perfectly to the body, for unprecedented seating comfort.
The grand lui base presents interesting innovations, developed to offer more and more possibilities for customization and pairing. To the already available configuration with natural wood legs and to the one with swivel base, grand he adds the variant with metal legs. Designed to guarantee maximum hold and stability, the new base is characterized by thin three-dimensional geometric lines able to create a pleasant contrast with the soft curves of the seat.
As in the case of the swivel version, the new metal base is also available in three different variants: glossy, stainless steel, or in the new black-matt trend finish. Another novelty concerns the upholstery of the grand lui chair, available this year also in the new maple fabric. Refined and resistant at the same time, its iridescent and velvety effect gives brightness to the seat shell, enhancing its sensual forms and the characteristic hand-stitched drapery.
Photogallery