Products
Oak by SELVA in an exclusive shade and a unique golden finish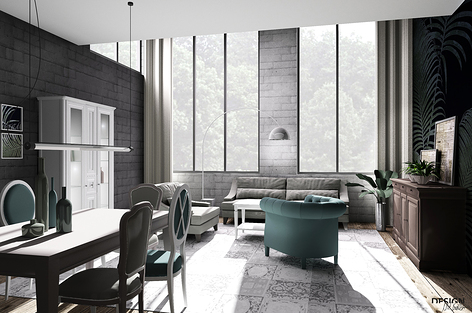 Manufacturing company
In Cologne, SELVA had premiered a new finish: oak meticulously refined in a gray-silver color. Another first at the fair – by popular demand – was a table top without a leaf for the successful Varia line of dining tables.
In addition, for the first time SELVA had presented a rear panel for a china cabinet featuring a golden cement-look finish with a texture and structure that creates an attractive play of light.
Not only had SELVA showcased these new features in Cologne; the company had also presented a broad-based portfolio that demonstrates its grand passion for interior design and its talent for adapting its characteristic furnishings to customers' wishes and today's lifestyle. Made with extremely precise craftsmanship, SELVA products prove that design can be timeless without becoming generic.
The entryway is where home furnishings make their first impression. Here SELVA presents a range of styles for coat closets and hat stands, chests and mirrors – all of which are both attractive and functional. The living room, the heart of any home, is becoming more flexible in its use. In addition to classic living-room furniture such as sideboards, cabinets, sofas, armchairs, and television units, today we often need options for working from home. With this in mind, SELVA offers a variety of secretary desks, all featuring the power outlets and USB sockets needed for office tasks. All of SELVA's collections show how classic design can go hand-in-hand with modern comfort – display cases are available with lighting systems and drawers with self-close mechanisms.
SELVA places a priority on comfort and variety in the dining room as well. When visiting a furniture store, the customer can choose between seven different table legs, while table tops come in five sizes and with optional pull-out systems. Depending on the collection, up to 16 finishes are available, which can then be combined with the different legs and tops.
The selection of chairs is equally broad. And for a romantic bedroom, SELVA also offers a diverse range of beds and wardrobes. With 14 different finishes, customers can create looks ranging from antique walnut to vintage, country house, or classic elegance.
Photogallery