Products
Riflessi presents Square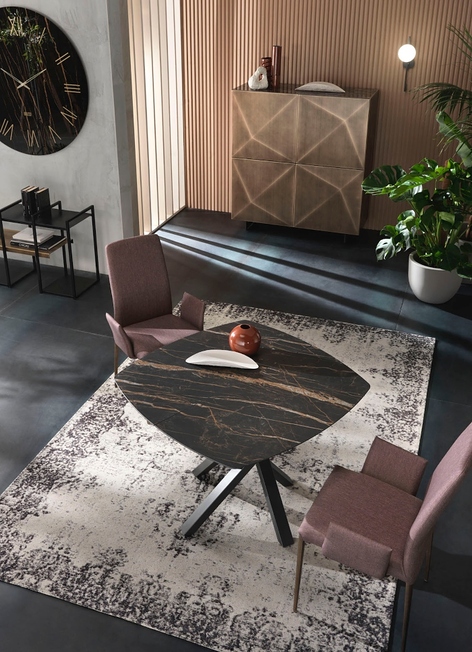 On the occasion of the 2021 Milano Design City, Riflessi presents the new Square: the brand's first table with a patented top. Square, like an organism that adapts and modifies itself according to the changes of the environment in which it lives, has been created to harmonize and adapt to the habitat that has been the fulcrum of our lives, this year more than ever before, and often the epicenter of transformations: the home.
Domestic spaces today require flexibility and practical elements, which easily conform to changing rhythms and practices. The barrel shape, proposed in the fixed and extendable versions, was born with this purpose and originates from the encounter of the square and circular shapes, bringing with it the advantages of both: like a squared table it presents the "classic" surface of a dining room table, while maintaining the harmony and welcoming look of rounded shapes and the absence of sharp corners, which - in addition to a safety theme in homes with small children - allows people to also sit the ends of the table.
Square embodies the know-how and attention of Riflessi for the new housing needs also in the proposal of tops with finishes of great aesthetic impact: an absolute novelty, the wooden tops with a thickness of 20 mm made of flamed wood veneers with warm natural veins (adjusted with the inserts in the extensible version, in order to to give continuity to the surface of the top) and obtained from the processing of FSC® certified wood, coming from forests managed according to strict environmental, social and economic standards. These tops are available in the intense Canaletto Walnut and Heat Treated Coke Oak finishes that will be soon proposed by the company for all tables with a central base.
Square is also presented with the top in elegant matt finishes in ceramic with a "marble effect" - such as Calacatta oro, Emperador, Noir Desir, Nero Greco - which guarantee an extreme resistance to scratches and bumps, to comfortably use the table as a kitchen island and worktop.
The introduction of this new element, which Riflessi will propose as a piece of furniture to be customized in all its aspects, results from a research by the company that, in this last year, has become even more receptive to the needs of its customers (and more), for which domestic spaces have taken on an increasingly important meaning and where comfort, functionality and style are now indispensable.
The new patented barrel top, which in the Square series lays on the Shangai base - one of the most recognizable elements of the Riflessi style - is proposed in a fixed version with a side measuring 100 cm and extendable - thanks to practical central inserts - to reach a length of 150 cm. The same top will subsequently be proposed for other collections of tables in the catalogue.
Photogallery