Products
Slido Wall: movable walls by Häfele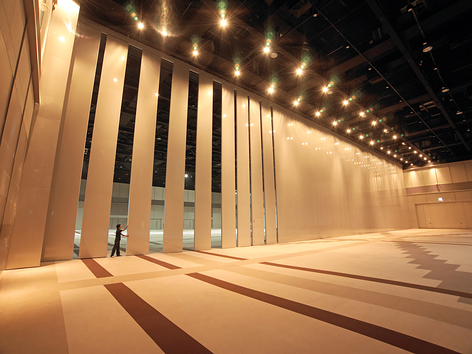 In the hospitality sector space-saving solutions are highly requested, especially those increasing or reducing the size of rooms in accordance with requirements of the day or the needs of the guests.
Slido Wall by Häfele is the movable walls system easy to operate, which can divide or increase the space of rooms and environment so that every square meter can be used as efficiently as possible.
The strength of the system lies in its customization; in addition to the standard models Häfele is able to offer many other possibilities, with fire-resistance and sound insulation properties/performances.
The Häfele system helps to expand the imagination of designers. This applies especially to the development of flexible space-saving solutions for hotels, congress and convention centres, schools, restaurants, shopping centres and commercial buildings.
Moreover, byusing the Dialock system on Slido operable walls, every wall/door can be opened with an electronic key­card integrating itself in a complete electronic control access system.