Products
Temps: executive chair by Pedrali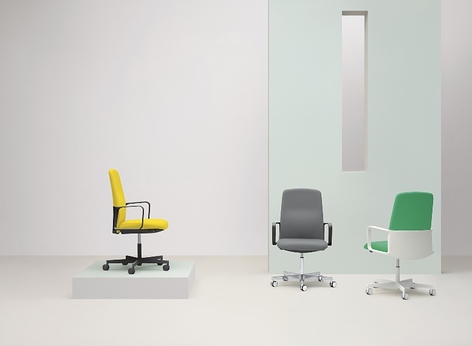 Manufacturing company
In designing Temps, Jorge Pensi's aim was to create a friendly object, one which nevertheless has specific features and a clear identity that allows this chair to live within different working environments: offices, multipurpose spaces, or homes.
Temps has a striking feature in its height-adjustable base made in die-cast aluminium, pure and elegant at the same time. This chair guarantees excellent ergonomics and comfort thanks to its weight-activated, synchro-tilt mechanism that is able to regulate the degree of tilting autonomously according to the user's body weight. Its anatomical shape encourages good posture. The seat and backrest are comfortable and snug with its polyurethane injected foam padding, cosily embracing the person sitting in the chair. An injection-moulded polypropylene shell fits around the seat and contains the mechanism, hugging the user's lower back and ensuring ergonomy and comfort, while the padding inserted in the polypropylene shell designs a continuous line.
Two minimal, simple arms made from polypropylene help accentuate the concepts of lightness and dynamism.
Photogallery