Products
The revolution of Gerber Technology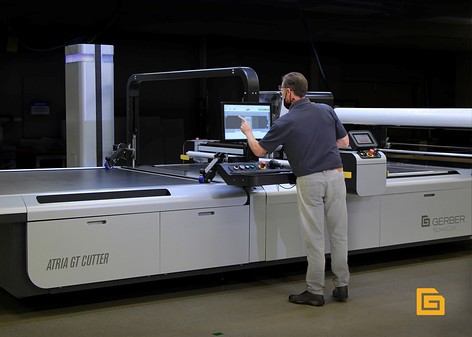 Gerber Technology redefines mass production with launch of revolutionary, Next-Generation cutting room.
Gerber Technology is revolutionizing the flexible materials processing industry
with the launch of their end-to-end solution for mass production. The connected
platform features the new Atria digital cutting solution and the October 2020
release of AccuMark® 2D and 3D, AccuNest™ and AccuPlan™. With decades
of industry experience, a rich history of innovation and feedback from it's global
customer base, Gerber developed a next-generation, digital mass production
solution that will offer the best throughput, quality and price per piece in the
market.
As the industry's smartest machine to date, the Atria promises to transform
mass production by improving overall throughput by 50%, reducing consumable
usage by over 30% and improving material yield by 5% with zero buffer cutting
in many applications at full speed. The intuitive solution will be a game changer
for the fashion, furniture, transportation markets as it uses powerful algorithms
to eliminate errors, reduces costs and ensure data integrity.
Discover how Gerber Technology's industry-leading technology can help you transform your business for a future of success.
Photogallery