Profiles
AVE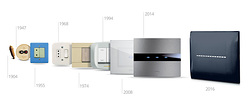 AVE S.p.A. is an Italian company leading the international scene of the high quality electric and electronic equipment manufacturers. Founded in 1904, the Company has always been in the vanguard of innovative solutions in line with the market requirements and has constantly improved its product range and the technology of its production units' technology. The research and development of new solutions, the design and accurate manufacture of the components, including the assembly and the efficient sale organization allow the AVE trade-mark to be offered to Installers, Engineers and Architects, as a functional and appropriate response to the evolving domestic and industrial installation requirements.
The Company headquarters are in Rezzato, in the province of Brescia. Altogether, the total number of the employees, including the sales network, with before and after-sales technical service, amounts to over 220 people, all highly skilled and trained.
Today AVE exports to over 70 countries and is present in various countries with sales subsidiaries and joint industrial ventures. AVE appears as a constantly developing reality which offers more than 3,000 products in six strategic divisions:
Wiring Accessories;
Home automation and Hotel Management system;
Safety-security;
Boxes, Enclosures and Consumer Units;
Modular devices;
Ventilation.
Design is AVE production strength and the symbol of qualitative and prestigious "made in Italy": it represents the added value on which the firm has built its business philosophy, based on constant planning and highly technological and reliable but also refined offer, elegant solutions with an innovative and unique design, suitable for a more and more developing market for its possibility to be easily inserted into any space.
In 2016 AVE is included among 100 Italian excellences, a prestigious award that elected the Company among leading protagonists of virtuous Italy, that aims to give value to the Made in Italy as a national and international heritage. Design for AVE means quality, technological innovation, competence, professionalism and creative knowledge. Innumerable architects and designer, from Giò Ponti and Andries Van Onck to Makio Hasuike have created for AVE. The evolved design is always supported by the perfect performances, to guarantee aesthetical solutions and technological products, as a result of the great professionalism and business know-how. AVE products have been installed in homes, offices and companies in Italy and in more than 100 countries.