Profiles
CACCARO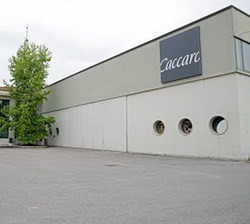 Caccaro, a company established in 1958 in Villa del Conte (PD) by Salvino Caccaro, has always stood out on the quality furniture market in terms of its constant stylistic research. The strongly innovative character of its products, made exclusively in Italy, in three production facilities, has made the Company one of the symbols of excellence of "made in Italy" design in the world.
The Company presents integrated furnishing solutions which make every home area, from the night area to the living area, unique and strongly one of a kind. Perseverance and a passion for designing, manufacturing and distributing products with an acknowledged specialization in storage systems and their complementary fittings.
That of Caccaro is the story of a family which cultivates and renews its talent in a perspective focused on contemporary living. Hence, into every project, it puts its passion and love for beautiful things, made in a way that respects the environment and the health of people. A total-quality ideal which has resulted in the company being one of the first in Italy to adopt cutting-edge water-coating systems.
The brand's ambition is to continue asserting itself in terms of an elegant and long-lasting style made unique by research into ensuring functional elements are aesthetically integrated. An on-going quest for innovation enables the Company to anticipate new trends and makes it an international reference point in the design-furniture industry.
A top-level consultancy, design and assistance service, together with the daily passion of highly-qualified staff members, makes Caccaro an essential partner for anyone wanting to create unique and highly-personalized home environments.