Profiles
KRONOSPAN ITALIA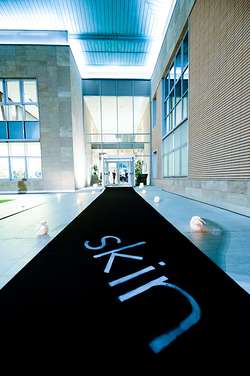 The new plant of San Vito al Tagliamento (Pordenone) has a strategic position in terms of railway, road and airport connection and it has an indisputable advantage, thanks to its proximity to a very important industrial district for furniture. It combines contemporary style architecture to the latest high tech equipment in terms of production systems, control systems and management. Along with 1,500 square meters of office space, there has been developed 14,000 square meters of production area and 24,000 square meters dedicated to logistics.
Working environment

The new plant in San Vito al Tagliamento is a typical model of taste and Italian style. Its architecture manages to combine the materiality of stone with the lightness of glass in clean modern lines. Soft colors and lightweight structures refer to dynamic and metropolitan atmospheres.
Industrial process

The entire industrial process is fully automated. The panels are collected and managed by high technology processes during the different phases of the production cycle. Each step is constantly monitored by computers and every product is tested directly by specialized operators in dedicated areas. Also for the safety of the manufacturing department, which extends over 14,000 square meters, we chose technologies and installations of the latest generation.
Laboratory
Our laboratory technicians are daily analyzing the quality of materials with tests of strength and durability, color selection and verification of performance with the help of the latest technologies in this field and with the most advanced software to monitor and archive data. These are rigorous survey methodologies that guarantee absolute reliability, quality and durability of our product proposals.
Photogallery