Profiles
VARASCHIN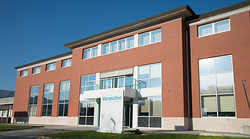 Varaschin is a venetian company founded in 1969 by two brothers, Ugo and Pietro, whose core business is the production of hand-woven outdoor furniture in rattan and wicker. "Weaving is the soul of our company: it gives dignity to materials and added value to products." The crisis of the rattan market since 2000 leads to the introduction of innovative materials such as aluminum, lacquered wood. Five years later the company starts the exploration of new weave materials such as synthetic fibers. The new century also marks the entry in the contract industry, with a dedicated sales network and a complete design service for hospitality.
The collaboration with designers and architects of national and international renown has enabled the creation of innovative and modern products, strongly characterized and recognizable in the reinterpretation of the interweaving philosophy. Varaschin furniture is characterized by a special outdoor technology, designed to withstand weathering and to have a long life, and applied to high quality materials and fabrics. The production also includes sofas and armchairs, padded with dryfeel rubber for water drainage and air circulation and lined with waterproof, anti-odor and anti-mold acrylic fabrics.
In recent years, the company has returned to its origins focusing on the production of "made in Italy" outdoor furnishings, that culminates in 2017 in the launch of the "Outdoor Therapy" payoff, a new way of living outside spaces. Outdoor furnishings, as well as comfort and functionality, represent the opportunity to get closer to nature and enjoy outdoor areas all year long. In the corporate vision, exteriors are natural extension of the home, real "rooms" that create a living room in the open air, keeping the standards of comfort and style intact. This spaces merge harmoniously thanks to the combination of shapes and colors that are perfectly coordinated.
Photogallery