People
ARCHEA ASSOCIATI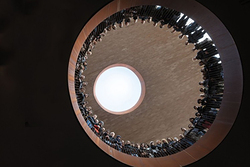 Founded in Florence in 1988 by Laura Andreini, Marco Casamonti and Giovanni Polazzi, Archea is a architecture studio in which more than 150 architects work in Florence, Rome and Milan. In 1999, the founders were joined by Silvia Fabi, coordinator of the studio's design activities. Thanks also to the collaboration with partner companies in Beijing, Dubai and Sao Paulo, the studio has realized works of Architecture, Design, Interior Design and Graphic Design all over the world. Archea Associati's interests and research activities move from the landscape to the city, from building to design and, while focusing on architecture, the projects range from graphics to publishing – with the direction and editorial staff of the international architecture magazine "Area" – from exhibitions to applied research. The complementarity between the different activities focused on composition in relation to the various scales of the project opens a constant critical reflection on the themes of the construction of architecture.
In addition to research in the design field, each member of the firm carries out a parallel activity in the Faculties of Architecture in Genoa, where the architect Marco Casamonti is Full Professor of Architectural and Urban Design, and in Florence, where the architect Laura Andreini holds the Chair of Architectural and Urban Design.
Over the years, the firm has been invited to important competitions in Italy and abroad, and has received numerous prizes and awards, as well as being invited to participate, with the main works created, in several editions of the Venice Biennale Architecture Exhibition.
City: FLORENCE
Nation: ITALY