People
CONCEPTUAL DEVICES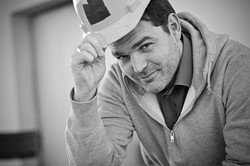 The studio is involved in concept development at all scales and media, architectural design, urban design strategies, and consulting. It was founded by Antonio Scarponi in 2009.
In the past years, the studio engaged and specialized in the design of urban agricultural devices. Urban farming is not understood just as the mere production of food in the city but as the production of the city, a way to grow the city as a living environment. Conceptual Devices is active in offering consultancies to municipalities and agencies concerned with urban planning and urban agriculture.
Antonio Scarponi studied architecture at Cooper Union, New York and at IUAV, Venice, from which he holds a Ph.D. in Urban Design. He taught at KTH, Stockholm and NABA, Milan. Currently, he is Lecturing at ZhDk, Zurich. He is the recipient of the Curry Stone Design Prize, 2008, and in 2012 was nominated for the Katerva Sustainability Award. He is the author of ELIOOO, an instruction manual to grow food at home using IKEA parts. He is also the co-founder of TANTOOO, the fairy tale beanbag.
City: ZURICH
Nation: SWITZERLAND