People
FERNANDO MOSCA ARQUITECTO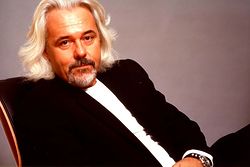 Enlightenment and space: To model to create shapes and volumes, to elaborate in order to succeed in transmitting shared emotions. This is how the architect Fernando Mosca works on his projects, all different because of their functionality and aesthetics but still with a common mark, that defines "choices of style". His own design, minimalist, with a skilful mix of innovative materials, both technological and traditional. A work method that does not aim at strict patterns, but emphasizes the conceptual development with constant encroachments with other fields such as Arts, supported by exchanges with engineers, craftsmen and enlightenment experts. Within each creation you can perceive his origins: the Latin-American exuberance coupled with the diligence and the know how acquired on-the-job, during his first experience in Milan.
A route made of steps: vestiges and wakes. From his training in Argentina in the University of Cordoba, to Milan. And the vestiges of his route remain within his creations. The researches in architecture, the different experiences with fashion and luxury (both in the hospitality and the residential industry), the desire to experiment and the continuity in his collaborations aiming at completeness. So the experience develops itself between two continents, between the Argentinean influence, his shattering nature and the power of colours, and the European and Italian approaches, full of history that aim at functionality.
The Milanese Studio – A practice ground. Between Italy – Milan – and the rest of the world, through South America and Spain, the architectural Studio Fernando Mosca works with a constant flow of experiences that fuels the creative process. Just like if it was a practice grounds for ideas: from the local, linked to the territory, to the global. And it's not only from a geographical point of view: the openness must be intended as a link between skills, know how and persons, always researching something new for the structural solutions, as well as for materials, sometimes unusual.
Across-the-board sectors. From fashion and residences to restorations, the architect Fernando Mosca explored during his career horizons that might look distant and unrelated. The first motivation was curiosity and the desire to experiment, with projects realized alone or even in partnership with important local architectural studios, such as in Argentina. Everywhere Mosca plans spaces mostly: commercial (retail outlets and showrooms) and private (apartments, houses and residences). Anyhow, the application of this concept fuels the constant research, and under the guidance of the architects, teams participate with energy to international contests, new playgrounds for the creativity and the professionalism that characterized Mosca.
City: MILAN
Nation: ITALY