People
PALOMBA SERAFINI ASSOCIATI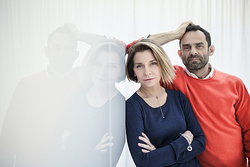 Ludovica Serafini and Roberto Palomba, architects and designers, founded Palomba Serafini Associati in 1994, based in Milan. The high quality of their project is their distinctive mark.
They collaborate with the most prestigious design brands all over the world and the majority of their products designed since 1994 is still in production.
Numerous awards such as Compasso D'Oro, Red Dot Award, Design Plus Award, Product Innovation Award, German Design Award, Elle Decoration International Design Award attest to their work.
"Our goal is to design free projects, able to interact in an evident and immediate way with people who choose them. Our success is measured by the amount of persons worldwide who have chosen to share their lives intimately with our products."
Ludovica+Roberto Palomba currently develop important residential architecture, contract, interior and yacht.
City: MILAN
Nation: ITALY