People
ZIFFER ARCH. TOMMASO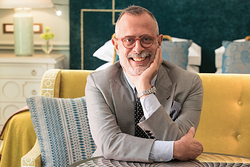 Tommaso Ziffer, was born in Rome in 1955, and followed his family traditions in fashion and Design, his grandmother Carlotta Botti was in fact the owner of the famous "Sorelle Botti" Fashion House which was very well known in Rome between the 40s and 60s, and famous for dressing the Roman nobility and actresses such as Anna Magnani. After graduating in architecture in 1983 he worked alongside his mother, Angela Saratti Ziffer, a very well known interior designer.
During the 90s he began his collaboration with fashion designer Valentino, for which he designed many shops in Italy and worldwide (Gstaad, Munich, Monte Carlo, Venice, Geneva, Bari, London, Zurich, Milan) as well as the private offices of the designer and his partner, Giancarlo Giammetti, in the headquarters of the Valentino Fashion House in Rome, in the historical Palazzo Mignanelli close to the Spanish Steps. In 1985 he designed the "Accademia Valentino", a multi-functional exhibition space, again in Rome in Piazza di Spagna , close to the main Valentino Headquarters.
In 2000 he signed the Interior Design project for the first Luxury Design Hotel of the italian Capital, the famous "Hotel de Russie" for the Rocco Forte hotel chain, that was mentioned among the trendiest hotel by the Time Magazine. in 2007 he signed the project of the Interior Design , of 5-star luxury hotel "Hotel de Rome" in Berlin, which quickly became the main point of reference in the German capital for actors and celebrities and one of the trendiest Hotels in Berlin. Ziffer, who lives between Rome and Paris, continues to work actively both in Italy and abroad, on projects for both private and public clients and characterizes his work with a remarkable eclecticism based on a harmonic use, of color and a mix of shapes and styles that characterize it.
City: ROME
Nation: ITALY