References
Artemide illuminates the Feltrinelli Foundation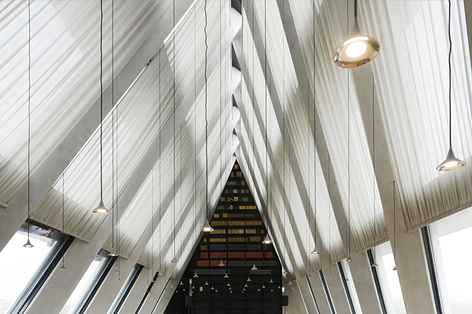 Azienda produttrice
Artemide illuminates the new headquarters of the Feltrinelli Foundation at Porta Volta, Milan, designed by the eminent architecture firm Herzog & De Meuron.
For each of the five floors of the building Artemide designed specific lighting solutions capable to interact with the architecture and to satisfy the whole range of uses of the promises: flexible, dynamic appliances that define the spaces at the different times of the day, ensuring high technical perfomance and creating pleasant luminous ambiances.
The Unterlinden combination, designed by the architects in 2014, uses last-generation technical products, including the Picto High Flux projectors, to provide elegant, high-performance, flexible illumination in the Foyer of the Feltrinelli Foundation, the bookstore, and the coffee shop on the ground floor.
Ourea in a special black stemmed version illuminates the broad double-height space of the conference room.
In the offices on the third and fourth floors, the Algoritmo system is integrated into the architecture to provide even illumination, ideal for work spaces, with each work station fitted with the Demetra table task light. The area also features Pipe floor LED, an update of the Pipe appliance, the first project developed by Artemide in partnership with architects Jacques Herzog and Pierre De Meuron, which received a Compasso d'Oro ADI award 2004.
A regular shower of more than 100 Unterlinden appliances softly animates the space. A special version of Unterlinden table, expressly designed for the reading stations, anticipates the evolution of this family of appliances - a project that is highly appreciated for its minimal look, combined with strongly characterized materials and high lighting value, ideal for development into multiple versions.
Photo credits: Michele Nastasi
Photogallery