References
Hotel Viu Milan - Milan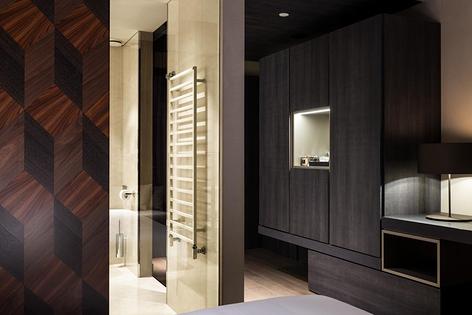 Scirocco H designs and manufactures radiators for the house and bathroom towel heaters, by interpreting a highly technical and rigorous sector with a new sensitive craftsmanship, that allows to respond more effectively to a new culture of home living. Young and dynamic since its foundation in 1989, Scirocco H is the first company in Italy to produce the towel warmer, recognizing the need for aesthetic and functional innovation of the domestic heating industry. It focuses in particular on bathroom furnishings. Scirocco H's products reflect the style and passion with which they are designed, becoming more than just simple radiators: they are true works of design, that fit in every environment – leaving a clear mark of their character. The quality remains a firm feature of the company. The raw materials and the color combinations allow each radiator to be unique. Tempered glass, iron, stainless steel, cast iron, brass and aluminum enhance the concept of heat and well-being through emotional shapes, with a powerful design and a strong technological significance. Moreover, the side by side and constant collaboration with the most esteemed and important Italian designers reflects upon the product research, developing not just simple warming bodies, but real pieces of furniture, with different and original functionalities and technical and aesthetic features, created with artisan precision and studied to be perfectly integrated in every environment.
Winter for the Hotel VIU Milan
Winter, the towel warmer with an essential design invented by Scirocco H and characterized by its innovative linking system of struts and pipes, has been chosen Studio Arassociati and by Nicola Gallizia Design to decorate and heat the luxurious bathrooms of the new 5-star hotel of Milan, the Hotel VIU Milan. Thanks to its minimal design and its technology, Winter adapts perfectly to the sophisticated hotel bathrooms, in a blend of aesthetic perfection and functionality. Made entirely of brass, noble material for its quality and durability, it owes its success to the technology with which the uprights are connected with the horizontal square-section tubes. This particular technique that Scirocco H uses as an alternative to classic welding makes Winter a unique warm towel with perfect aesthetics, since in this way, while maintaining the body's heating resistance, the aesthetic imperfections - thanks to the welding process of the elements - are eliminated.
The radiator, in hydraulic or electric version, is available in three different heights 114 cm, 138 cm and 183.8 cm and two widths 50 cm and 60 cm, to adapt to any home and decor solution. Equipped with valve and holder, exhaust valve and wall brackets, it is available in chromed brass or in any of the 65 shades available from the Scirocco H range of colors.
Referenza di: SCIROCCO H
Photogallery