References
Mappyfiber at Imam Khomeini International Airport Hotel Teheran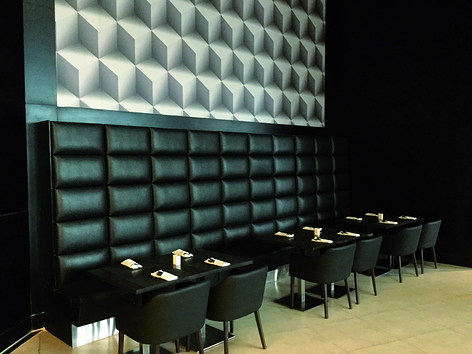 Imam Khomeini International Airport Hotel in Teheran: an icon of style and elegance, a building with taste and sophistication, a place where it must be a pleasure to stay; not only because of the quality décor that surrounds the guests and the undisputedly excellent service, but also because of the peacefulness of its rooms, their value increased by the addition of Mappyfiber, one of the star products of the company Mappy Italia SpA, which has been dealing in the thermal and acoustic insulation industry since 1974. In a hotel with soft and delicate accents, thermal and acoustic insulation has a fundamental value and ensures the customers' privacy and well-being, making their stay more pleasant and giving it that extra touch of relaxation. Mappyfiber is a modular panel that guarantees the improvement of a room's acoustic comfort thanks to its ability to reduce reverberation. Good acoustics depend on the shape and volume of a space, but the choice of soundproofing materials and their quality are fundamental. The Mappyfiber panel ensures high soundproofing and heat insulating performance. On its visible side it can be covered with different fabrics to give it an elegant finish and its construction gives designers room for creativity, thanks to an infinite combination of shapes, installation systems and high-resolution prints. The panel bears the CE marking and is recommended for public and private spaces, for example in schools and hospitals and in environments where high levels of durability are required, as well as environments where moisture is present, such as swimming pools.
Technical Characteristics
The panel is made from compact, polyester textile fibre, obtained by recycling PET bottles. The product is resistant to weather, mould and bacteria and does not cause irritation on direct contact with the skin. It is characterized by great flexibility in terms of installation systems, both onto walls and ceilings, with galvanized sheet steel T-frames, with wooden frames and stretched steel cables. Using a ceiling suspension kit, it is possible to create flat or sloping islands. Mappyfiber provides high sound absorbing power at mid and high frequencies w=0.8 (UNI EN ISO 354, UNI EN ISO 11654), density 50/60 kg/m3, thermal conductivity =0.0341 W/mK (EN 12667:2001), fire-resistance Bs1d0 (EN 13501-1), smoke emission index F1 (NF F16-101). The hotel, recently constructed and popular for its adjacent position to the airport, proves to be one of Teheran's most innovative thanks to the refinement of its location and the quality of the Mappy Italia SpA products used.
Referenza di: MAPPY ITALIA
Photogallery