References
Parchettificio Garbelotto for Il Giardinetto Hotel and Restaurant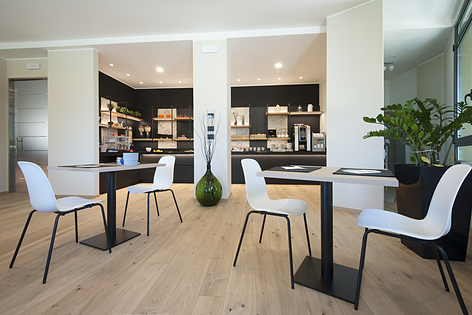 The hotel and restaurant "Il Giardinetto" located in Colle Umberto in the province of Treviso is a diamond of the Alpes foothills and of the Prosecco hills. Through the big windows of the brand-new dining room it is possible to admire such landscape. The owners have entrusted for this project the advanced technology of Clip Up System, the innovative laying system patented by Parchettificio Garbelotto which allows the substitution of even a single board in less than a minute. Clip Up System is a great innovation designed to transform the laying of floating wooden floors thanks to a system of steel clips to be inserted in the milling realized beneath the boards.
This product has the great advantage of making the floor completely inspectable: boards may be individually removed and eventually replaced in a very short time or they could all be removed and laid in another location, in an easy and perfect way.
Clip Up System has been selected for several architectural projects worldwide and it is perfect both for residential and public areas such as hotels, restaurants, airports, museums and so on.
Thanks to the attention devoted to the ecology and the well-being of the people who lay and live in contact with the floor, Parchettificio Garbelotto provides products submitted to V.O.C. testing and sends the client the certificate which highlights that the Garbelotto products do not contain carcinogenic substances and that the other dangerous substances are below the limits determined by the German regulation AgBB/DIBt and FSC Certificate. The requirements for the LEED (The sustainable certification for buildings) standard are met.
Photogallery