References
Roastery % ARABICA - Shuwaikh, Kuwait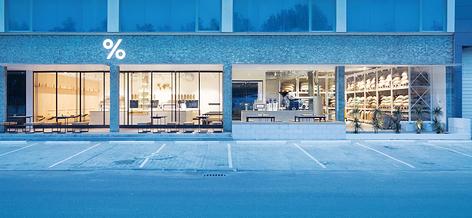 Azienda produttrice
In a coffee roastery in Kuwait, industrial steel doors are particularly effective. The coffee roaster, %ARABICA from Shwaikh, wants to offer visitors a welcome in style. The entrance forms an important part of this.
The architect company Puddle opted for FritsJurgens pivot hinges because they are concealed in the steel frame. This emphasizes the industrial design of the entrance. The entrance of %ARABIC is equipped with no less than eight industrial pivot doors, in which the pivot door hardware of FritsJurgens is integrated. These doors also draw attention because they are over three meters high.
The pivot doors are equipped with reinforced glass in a black oxidized steel frame. This emphasizes the industrial character that %ARABIC had in mind. The building itself also has a floor surface of 222 m². The open look means that visitors have an undisturbed view of the street. %ARABIC is a coffee roastery that is part of a larger group by the name of Nejoud Restaurant Management Company.
%ARABIC is a company that mixes with local architecture and that has an eye for the beauty of regional materials. The coffee roastery focuses primarily on the corporate market. Like FritsJurgens, %ARABIC has an eye for beauty, and this fits together perfectly in terms of character. In this project System M pivot hinges were used.
The System M is fully integrated into the top and bottom of the door, only the floor plate and ceiling plate are visible. The doors at the coffee roastery are open all day, and are placed in the hold position at 90 degrees. This gives the room an open and welcome feeling.
Photogallery