References
Torre Velasca Apartaments – Milan (MI)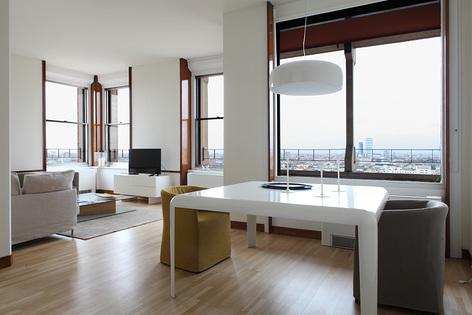 Among the most appreciated names in the design industry for the research on finishes, the refinement of lines and the technical quality of details, Porro was asked to provide the systems and furniture for 13 exclusive apartments situated at 19°, 20° and 21° floor of the Torre Velasca in Milan.
Recently retrained by the Unipol Group, this icon of modern architecture with a unique view on Milan's skyline, acquires even more charm thanks to the unique mix of minimalism and experimentation of Porro's furniture and philosophy. These spectacular fully equipped apartments belong to the Luxury Apartments Collection of Domux Home, the brand of short-term rentals of the insurance group, to transform business and leisure trips into an opportunity to watch and experience the capital of fashion and design from a privileged point of view.
In accordance with the elegant finishes of previous walls and floors, subjected to the Superintendent's constraint, Porro's articulated proposal, assisted by the technical expertise and the creativity of Lissoni Architettura Milano, fits impeccably personalizing every space. In the dining room, the scene is dominated by a large glossy white Ferro table in soldered curved metal sheet, iconic product and symbol of the purified design of the company. The Tiller sideboard in eucalyptus, available in the two versions with doors to be opened one over the other at 180°, is perfect for storing in order plates and glasses.
The environment is further enhanced by 2 Modern white moon compositions: a container elegantly leaning on Lama foot, with two drawers and a compartment with drop-leaf in, and a cupboard with "Small" doors, an opening solution in the thickness, for an elegant, impactful visual effect. Protagonist in the living area is the system of bookcases and equipped walls System. Versatile and elegant, the System wall bookcase, with a white moon lacquered sliding door that hides the tv compartment, is here presented in black stained hemlock, a prestigious North American essence characterized by a particular grain and excellent feeling to the touch, chosen between the various essences of Porro selection of woods. Leaning on the floor and fitted on a pivoting base, the Sidewall totem-bookcases by Piero Lissoni in giallo Mustard, verde Spring, arancio Fiamma and bianco Moon glossy lacquered colours, decorate the wall combining functionality and bright colors.
The Fractal table and console designed by Piero Lissoni, a highly versatile and capable product of fitting perfectly home and office, embellish the living room and the hall. A series of complements elegantly personalize the spaces. The Bellevue mirror, designed by Soda Designers, essential and at the same time ingenious, with its stainless steel frame and segments that are protruding yet blunted, amplifies the light at the entrance, while the Groove bench, realized in black stained hemlock solid wood, completes the hall, proving once again the brand's fondness for wood.
Referenza di: PORRO
Photogallery