News
2015 Flou Book "360° Wellness"
published on: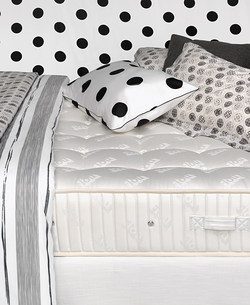 "
BENESSERE A 360°
" Is the new catalogue Flou has dedicated to its line of accessories for good quality sleep: the range includes mattresses, bed-bases, pillows, duvets, mattress protectors, pillow protectors and toppers. The range is the result of a journey that Flou began back in 1978 with its beds that made the dreams of millions of people in Italy and around the world. It is also the powerful stimulus that drives us to continue our research, to discover, innovate and improve.
Among the novelties
TOP SENSE
: Flou's new line of mattresses that maximizes and personalizes anatomical comfort.
The mattresses in the TOP SENSE line consist of two parts: the upper portion – with padding available in antiallergenic fibers or down – give the body an unbelievable sensation of coziness, welcome and wellness. The lower portion, the 'ergonomic block' (available as a sprung mattress, with pocket springs, latex or Memoform), guarantees the body's perfect posture when sleeping. The two sections are enveloped in an external, removable and slightly padded sheath – in a choice of materials - wool, cotton or Total Body – fitted with a zip fastener to facilitate laundering.
Fotogallery