News
Ettorino T e Ale BE T vincono il Prize Designs for Modern Furniture + Lighting
published on: 7 settembre 2022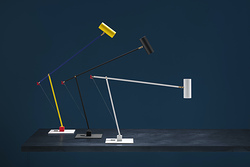 Innovazione tecnologica e design smart hanno determinato la vittoria delle nuove Ettorino T e Ale BE T di Catellani & Smith all'edizione 2022 dei Prize Designs for Modern Furniture + Lighting.
Il premio statunitense - istituito nel 1949 dal MoMA e riproposto oggi dal Chicago Athenaeum: Museum of Architecture and Design e Global Design News - riconosce il meglio del design contemporaneo in tema di illuminazione, arredi e complementi, proveniente da oltre 24 Paesi del mondo.
La vittoria del Prize Designs for Modern Furniture + Lighting rappresenta un risultato importante per Catellani & Smith che, a pochi mesi di distanza della presentazione ufficiale dei nuovi prodotti 2022-23, ha già conseguito un prestigioso riconoscimento grazie alla costante evoluzione in campo tecnologico applicata all'illuminazione, e all'approccio sempre unico e personale al design. Ettorino T, in particolare, è stata riconosciuta come Best Table Lighting of the Year dalla prestigiosa giuria che annovera nomi di spicco nel panorama dell'architettura internazionale.
Per saperne di più su: CATELLANI & SMITH
Fotogallery