News
Zen XXL the infinity shower by Megius
published on: 27 maggio 2019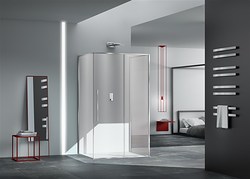 In fact, Zen XL has a sliding profile only 22 mm high because within it allows opening and closing device housing slowed down, which improves the feeling and comfort of the door in motion, amplifying the elegance.
It also increases the thickness of the glass, the whole Zen series XL is made with 8 mm tempered glass, where the presence of profiles is reduced to the essentials in such a way as to enhance the transparency of glass.
Additional technical features that enrich this elegant shower enclosure are the possibility to unhook the door in case of cleaning glass although there is no overlap between the fixed part and the sliding part; the water-containing breakwater at the base with "nolook" system for the application of the finishing silicone and the possibility of inserting a seal to contain the rebound sprays at a later time, that can occur in the presence of shower trays with little inclination.
As an option there is a pair of handles with a distance of 58 cm that give a clean but even more solid line to the shower cabin.
The Zen XL series offers finishes with bright chrome aluminum, brushed aluminum and black, in line with the current aesthetic research of design products, while for the glass are available finishes: reflective, transparent, mosaic white and chrome.
As an optional glass finish, it is possible to apply the protective anti-water treatment, thus making the glass sheet bright and transparent, or the Tecnovetro technology, ie a film which, in case of glass breakage, controls the fragmentation of the plate, in so as to block any dispersion of small particles created.
Various models make up the Zen XL series: sliding corner, with sliding door in alcove, or with a central sliding door; Zen XL is a shower that broaden your horizons, and is a product that lends itself to any challenge within the modern home or the contract and hotel industry, through the various technical solutions.
With Zen XL, technology becomes the new aesthetic paradigm.
Per saperne di più su: MEGIUS